3

Description

The ADS8363 is a dual, 16-bit, 1-MSPS analog-to-digital converter (ADC) with eight pseudo- or four fully-differential input channels grouped into two pairs for simultaneous signal acquisition. The analog inputs are maintained differentially to the input of the ADC. The input multiplexer can be used in either pseudo-differential mode, supporting up to four channels per ADC (4x2), or in fully-differential mode that allows to convert up to two inputs per ADC (2x2). The ADS7263 is a 14-bit version and the ADS7223 is a 12-bit version of the ADS8363.

The ADS8363, ADS7263, and ADS7223 offer two programmable reference outputs, flexible supply voltage ranges, a programmable auto-sequencer, data storage of up to four conversion results per channel, and several power-down features.

All devices are offered in a 5-mm x 5-mm, 32-pin VQFN package.
Device Information(1)
| PART NUMBER | PACKAGE | BODY SIZE (NOM) |
| --- | --- | --- |
| ADSxxx3 | VQFN (32) | 5.00 mm x 5.00 mm |
For all available packages, see the package option addendum at the end of the data sheet.
Functional Block Diagram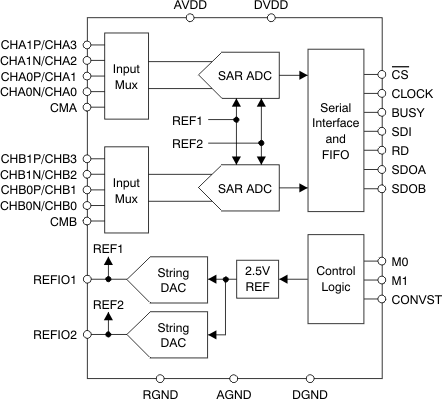 4

Revision History

Changes from C Revision (January 2017) to D Revision

Changes from B Revision (January 2011) to C Revision

Changes from A Revision (December, 2010) to B Revision

Changes from * Revision (October, 2010) to A Revision