6 Detailed Description
The WiLink 8 module is a self-contained connectivity solution based on WiLink 8 connectivity. As the eighth-generation connectivity combo chip from TI, the WiLink 8 module is based on proven technology.
Table 6-1 through Table 6-3 list performance parameters along with shutdown and sleep currents.
Figure 6-1 shows a high-level view of the WL1835MOD variant.
6.1 WLAN
The device supports the following WLAN features:
Integrated 2.4-GHz power amplifiers (PAs) for a complete WLAN solution
Baseband processor: IEEE Std 802.11b/g and IEEE Std 802.11n data rates with 20- or 40-MHz SISO and 20-MHz MIMO
Fully calibrated system (production calibration not required)
Medium access controller (MAC)

Embedded ARM® central processing unit (CPU)
Hardware-based encryption-decryption using 64-, 128-, and 256-bit WEP, TKIP, or AES keys
Requirements for Wi-Fi-protected access (WPA and WPA2.0) and IEEE Std 802.11i (includes hardware-accelerated Advanced Encryption Standard [AES])

2.4-GHz radio

Internal LNA and PA
IEEE Std 802.11b, 802.11g, and 802.11n

4-bit SDIO host interface, including high speed (HS) and V3 modes
6.2 Bluetooth
The device supports the following Bluetooth features:
Bluetooth 4.

0

as well as CSA2
Concurrent operation and built-in coexisting and prioritization handling of Bluetooth, BLE, audio processing, and WLAN
Dedicated audio processor supporting on-chip SBC encoding + A2DP

Assisted A2DP (A3DP): SBC encoding implemented internally
Assisted WB-speech (AWBS): modified SBC codec implemented internally
6.3 BLE
The device supports the following BLE features:
Bluetooth 4.0 BLE dual-mode standard
All roles and role combinations, mandatory as well as optional
Up to 10 BLE connections
Independent LE buffering allowing many multiple connections with no affect on BR-EDR performance
6.4 WiLink 8 Module Markings
Figure 6-2 shows the markings for the TI WiLink 8 module.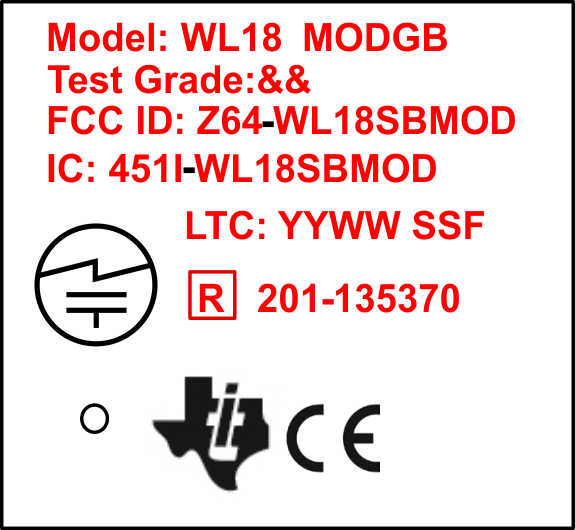 Table 6-4 describes the WiLink 8 module markings.
Table 6-4 Description of WiLink 8 Module Markings
MARKING
DESCRIPTION
WL18 MODG

B

Model

&&

Test grade (for more information, see Section 6.5, Test Grades)

Z64-WL18SBMOD

FCC ID: single modular FCC grant ID

451I-WL18SBMOD

IC: single modular IC grant ID
YYWWSSF
LTC (lot trace code):

YY = year (for example, 12 = 2012)
WW = week
SS = serial number (01 to 99) matching manufacturer lot number
F = Reserved for internal use

201-135370

R:

single

modular TELEC grant ID
TELEC compliance mark
CE
CE compliance mark
6.5 Test Grades
To minimize delivery time, TI may ship the device ordered or an equivalent device currently available that contains at least the functions of the part ordered. From all aspects, this device will behave exactly the same as the part ordered. For example, if a customer orders device WL1801MOD, the part shipped can be marked with a test grade of 37, 07 (see Table 6-5).
Table 6-5 Test Grade Markings
| MARK 1 | WLAN | BLUETOOTH |
| --- | --- | --- |
| 0& | Tested | – |
| 3& | Tested | Tested |
| MARK 2 | WLAN 2.4 GHz | MIMO 2.4 GHz |
| &1 | Tested | – |
| &5 | Tested | Tested |