3 Description
The DAC5682Z is a dual-channel 16-bit 1.0 GSPS DAC with wideband LVDS data input, integrated 2x/4x interpolation filters, onboard clock multiplier, and internal voltage reference. The DAC5682Z offers superior linearity, noise, crosstalk, and PLL phase noise performance.
The DAC5682Z integrates a wideband LVDS port with on-chip termination. Full-rate input data can be transferred to a single DAC channel, or half-rate and 1/4-rate input data can be interpolated by onboard 2x or 4x FIR filters. Each interpolation FIR is configurable in either low-pass or high-pass mode, allowing selection of a higher order output spectral image. An on-chip delay lock loop (DLL) simplifies LVDS interfacing by providing skew control for the LVDS input data clock.
Device Information(1)
| PART NUMBER | PACKAGE | BODY SIZE (NOM) |
| --- | --- | --- |
| DAC5682Z | VQFN (64) | 9.00 mm × 9.00 mm |
For all available packages, see the orderable addendum at the end of the data sheet.
3-Carrier WCDMA TM1 With a Gap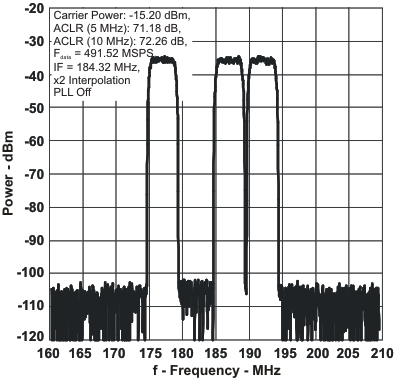 4 Revision History
Changes from E Revision (August 2012) to F Revision
Changes from D Revision (February 2011) to E Revision
Changes from C Revision (November 2008) to D Revision
Changes from B Revision (April 2008) to C Revision
Changes from A Revision (September 2007) to B Revision
Changes from * Revision (August 2007) to A Revision