3

Description

The CDCM7005 is a high-performance, low phase noise and low skew clock synchronizer that synchronizes a VCXO (voltage controlled crystal oscillator) or VCO (voltage controlled oscillator) frequency to one of the two reference clocks. The programmable pre-divider M and the feedback-dividers N and P give a high flexibility to the frequency ratio of the reference clock to VC(X)O

VC(X)O_IN clock operates up to 2.2 GHz. Through the selection of external VC(X)O and loop filter components, the PLL loop bandwidth and damping factor can be adjust to meet different system requirements.

The CDCM7005 can lock to one of two reference clock inputs (PRI_REF and SEC_REF), supports frequency hold-over mode and fast-frequency-locking for fail-safe and increased system redundancy. The outputs of the CDCM7005 are user definable and can be any combination of up to five LVPECL outputs or up to 10 LVCMOS outputs. The built in synchronization latches ensure that all outputs are synchronized for low output skew.
Device Information(1)
PART NUMBER
PACKAGE
BODY SIZE (NOM)
CDCM7005
VQFN (48)
7.00 mm × 7.00 mm
BGA (64)
8.00 mm × 8.00 mm
For all available packages, see the orderable addendum at the end of the data sheet.
Typical Application Schematic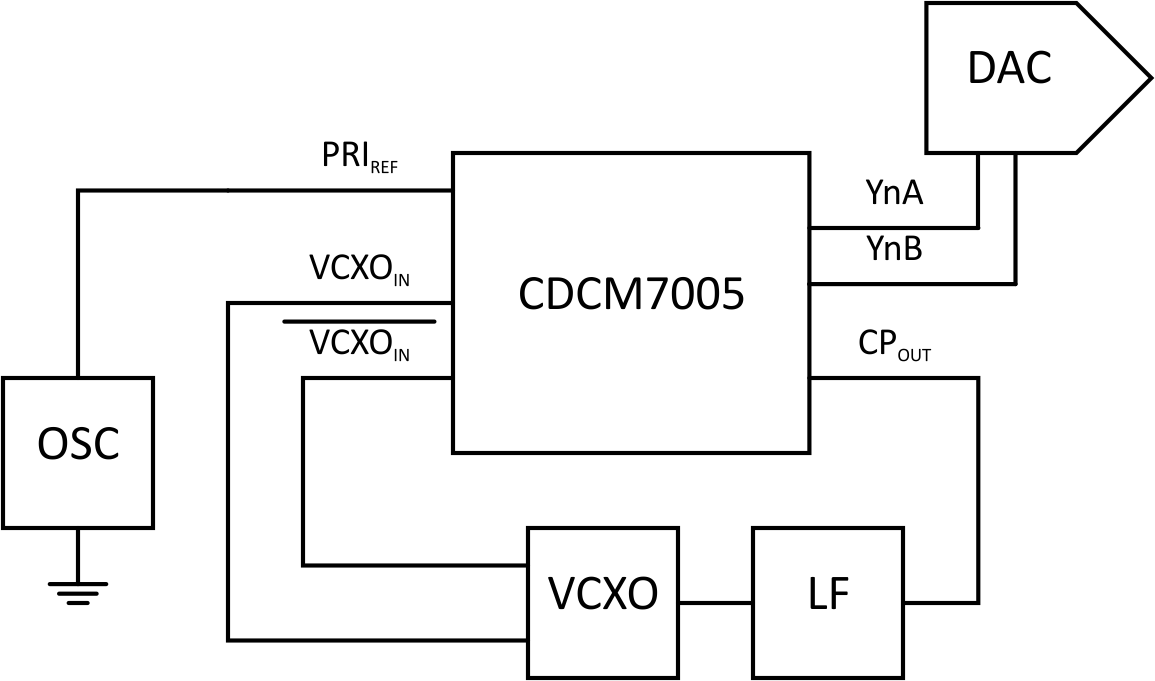 4

Revision History

Changes from F Revision (July 2015) to G Revision

Changes from E Revision (February 2013) to F Revision

Changes from D Revision (August 2009) to E Revision

Changes from C Revision (December 2007) to D Revision

Changes from B Revision (October 2005) to C Revision

Changes from A Revision (June 2005) to B Revision

Changes from * Revision (June 2005) to A Revision