8.1 Application Information
The DLP6500FYE along with the DLPC900 controller provides a solution for many applications including structured light and video projection. The DMD is a spatial light modulator, which reflects incoming light from an illumination source to one of two directions, with the primary direction being into a projection or collection optic. Each application is derived primarily from the optical architecture of the system and the format of the data coming into the DLPC900. Applications of interest include machine vision and 3D printing.
8.2 Typical Application
A typical embedded system application using the DLPC900 controller and a DLP6500FYE is shown in Figure 16. In this configuration, the DLPC900 controller supports a 24-bit parallel RGB input, typical of LCD interfaces, from an external source or processor. This system configuration supports still and motion video sources plus sequential pattern mode. Refer to Related Documents for the DLPC900 digital controller data sheet.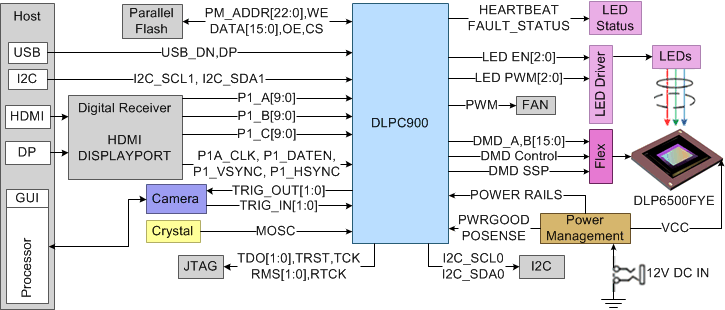 8.2.1 Design Requirements
Detailed design requirements are located in the DLPC900 digital controller data sheet. Refer to Related Documents.
8.2.2 Detailed Design Procedure
See the reference design schematic for connecting together the DLPC900 display controller and the DLP6500FYE DMD. An example board layout is included in the reference design data base. Layout guidelines should be followed for reliability.