3

Description

The TPA2012D2 is a stereo, filter-free, Class-D audio amplifier (Class-D amp) available in a DSBGA or WQFN package. The TPA2012D2 only requires two external components for operation.

The TPA2012D2 features independent shutdown controls for each channel. The gain can be selected to 6, 12, 18, or 24 dB using the G0 and G1 gain select pins. High PSRR and differential architecture provide increased immunity to noise and RF rectification. In addition to these features, a fast start-up time and small package size make the TPA2012D2 class-D amp an ideal choice for both cellular handsets and PDAs.

The TPA2012D2 is capable of driving 1.4 W/Ch at
5 V or 720 mW/Ch at 3.6 V into 8 Ω. The TPA2012D2 is also capable of driving 4 Ω. The TPA2012D2 is thermally limited in DSBGA and may not achieve
2.1 W/Ch for 4 Ω. The maximum output power in the DSBGA is determined by the ability of the circuit board to remove heat. Figure 33 shows thermally limited region of the DSBGA in relation to the WQFN package. The TPA2012D2 provides thermal and short-circuit protection.
Device Information(1)
PART NUMBER
PACKAGE
BODY SIZE (NOM)
TPA2012D2
DSBGA (16)
2.01 mm × 2.01 mm
WQFN (20)
4.00 mm × 4.00 mm
For all available packages, see the orderable addendum at the end of the data sheet.
Simplified Application Schematic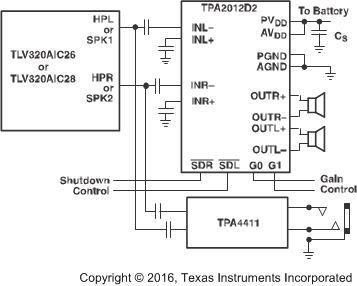 4

Revision History

Changes from E Revision (September 2016) to F Revision
Switched the BODY SIZE values in the Device Information table: DSBGA From: 4.00 mm × 4.00 mm To: 2.01 mm × 2.01 mm and WQFN From: 2.01 mm × 2.01 mm To: 4.00 mm × 4.00 mmGo
Changes from D Revision (June 2008) to E Revision
Added ESD Ratings table, Feature Description section, Device Functional Modes, Application and Implementation section, Power Supply Recommendations section, Layout section, Device and Documentation Support section, and Mechanical, Packaging, and Orderable Information sectionGo

Deleted Available-Options table; see POA at the end of the data sheet

Go

Deleted previous application schematics: Typical Application Circuit (previously Figure 33), TPA2012D2 Application Schematic With Differential Input and Input Capacitors (previously Figure 34), and TPA2012D2 Application Schematic With Single-Ended Input (previously Figure 35)

Go