3 Description
The OPA827 series of JFET operational amplifiers combine outstanding DC precision with excellent AC performance. These amplifiers offer low offset voltage (150 µV, maximum), very low drift over temperature (0.5 µV/°C, typical), low-bias current (3 pA, typical), and very low 0.1-Hz to 10-Hz noise (250 nVPP, typical). The device operates over a wide supply voltage range, ±4 V to ±18 V on a low supply current (4.8 mA/Ch, typical).
Excellent AC characteristics, such as a 22-MHz gain bandwidth product (GBW), a slew rate of 28 V/µs, and precision DC characteristics make the OPA827 series well-suited for a wide range of applications including 16-bit to 18-bit mixed signal systems, transimpedance (I/V-conversion) amplifiers, filters, precision ±10-V front ends, and professional audio applications.
The OPA827 is available in both 8-pin SOIC and 8-pin VSSOP surface-mount packages, and is specified from –40°C to 125°C.
Device Information(1)
PART NUMBER
PACKAGE
BODY SIZE (NOM)
OPA827
SOIC (8)
4.90 mm × 3.91 mm
VSSOP (8)
3.00 mm × 3.00 mm
For all available packages, see the orderable addendum at the end of the data sheet.
Input Voltage Noise Density vs Frequency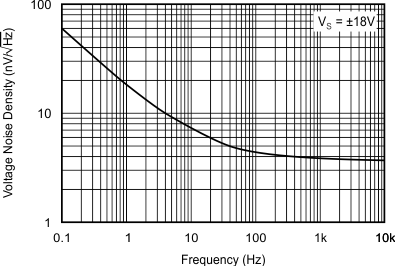 0.1-Hz to 10-Hz Noise