3 Description
This GREEN Rectifier™ controller is a high-performance controller and driver for standard and logic-level N-channel MOSFET power devices used for low-voltage secondary-side synchronous rectification.
The combination of controller and MOSFET emulates a near-ideal diode rectifier. This solution not only directly reduces power dissipation of the rectifier but also indirectly reduces primary-side losses as well, due to compounding of efficiency gains.
Using drain-to-source voltage sensing, the UCC24610 is ideal for Flyback and LLC-resonant power supplies but can also be used with other power architectures. The UCC24610 is optimized for output voltages from 4.5 V to 5.5 V, and is suitable for use with lower and higher output voltages as well.
The UCC24610 offers a programmable false-triggering filter, a programmable timer to automatically switch to light-load mode at light load, and a SYNC input for optional use in continuous conduction mode (CCM) systems. Protection features on TON and EN/TOFF pins prevent run-away on-time due to open-circuit or short-circuit fault conditions.
This device is available in an 8-pin SOIC package and an 8-pin, 3.0-mm × 3.0-mm SON package with an exposed thermal pad.
Device Information(1)
| PART NUMBER | PACKAGE | BODY SIZE (NOM) |
| --- | --- | --- |
| UCC24610DRB | SON (8) | 3.00 mm × 3.00 mm |
| UCC24610D | SOIC (8) | 4.90 mm × 3.91 mm |
For all available packages, see the orderable addendum at the end of the data sheet.
Flyback Topology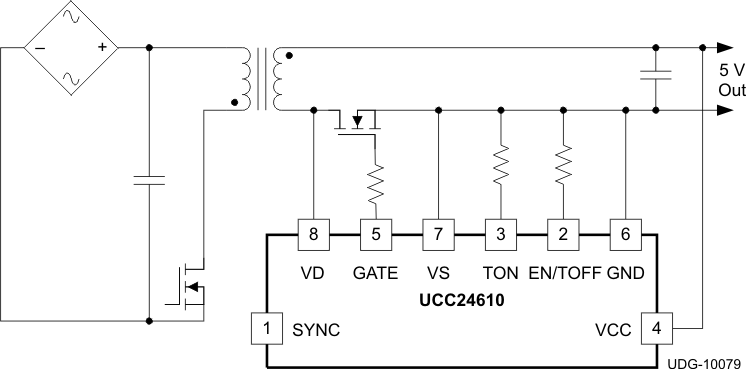 LLC-Resonant Half Bridge