3 Description
The LM3444 is an adaptive constant off-time AC/DC buck (step-down) constant current controller that provides a constant current for illuminating high power LEDs. The high-frequency capable architecture allows the use of small external passive components. A passive PFC circuit ensures good power factor by drawing current directly from the line for most of the cycle, and provides a constant positive voltage to the buck regulator. Additional features include thermal shutdown, current limit and VCC undervoltage lockout. The LM3444 is available in a low profile 10-pin VSSOP package or an 8-lead SOIC package.
Device Information(1)
PART NUMBER
PACKAGE
BODY SIZE (NOM)
LM3444
VSSOP (10)
3.00 mm × 3.00 mm
SOIC (8)
3.91 mm × 4.90 mm
For all available packages, see the orderable addendum at the end of the data sheet.
Typical LM3444 LED Driver Application Circuit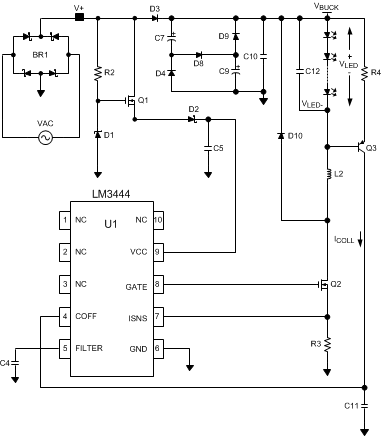 Efficiency vs Line Voltage