3

Description

The bq2423x series of devices are highly integrated Li-ion linear chargers and system power-path management devices targeted at space-limited portable applications. The devices operate from either a USB port or ac adapter and support charge currents between 25 mA and 500 mA. The high-input-voltage range with input overvoltage protection supports low-cost, unregulated adapters. The USB input current limit accuracy and start-up sequence allow the bq2423x to meet USB-IF inrush current specification. Additionally, the input dynamic power management (VIN-DPM) prevents the charger from crashing poorly designed or incorrectly configured USB sources.

The bq2423x features dynamic power-path management (DPPM) that powers the system while simultaneously and independently charging the battery. The DPPM circuit reduces the charge current when the input current limit causes the system output to fall to the DPPM threshold, thus supplying the system load at all times while monitoring the charge current separately. This feature reduces the number of charge and discharge cycles on the battery, allows for proper charge termination, and enables the system to run with a defective or absent battery pack. Additionally, this enables instant system turn-on even with a totally discharged battery. The power-path management architecture also permits the battery to supplement the system current requirements when the adapter cannot deliver the peak system currents, enabling the use of a smaller adapter.

The battery is charged in three phases: conditioning, constant current, and constant voltage. In all charge phases, an internal control loop monitors the IC junction temperature and reduces the charge current if the internal temperature threshold is exceeded.

The charger power stage and charge current sense functions are fully integrated. The charger function has high-accuracy current and voltage regulation loops, charge status display, and charge termination. The input current limit and charge current are programmable using external resistors.
Device Information(1)
PART NUMBER
PACKAGE
BODY SIZE (NOM)
bq24230
VQFN (16)
3.00 mm × 3.00 mm
bq24232
For all available packages, see the orderable addendum at the end of the datasheet.
Typical Application Circuit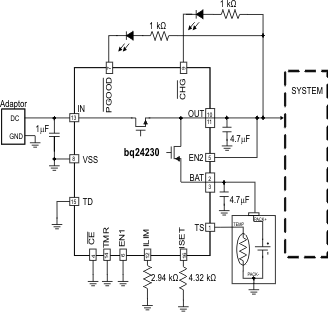 4

Revision History

Changes from I Revision (November 2015) to J Revision

Changes from H Revision (June 2015) to I Revision

Changes from G Revision (March 2015) to H Revision

Changes from F Revision (November 2014) to G Revision

Changes from E Revision (January 2014) to F Revision

Changes from D Revision (December 2013) to E Revision

Changes from C Revision (July 2010) to D Revision

Changes from B Revision (March 2009) to C Revision

Changes from A Revision (December 2008) to B Revision

Changes from * Revision (October 2008) to A Revision